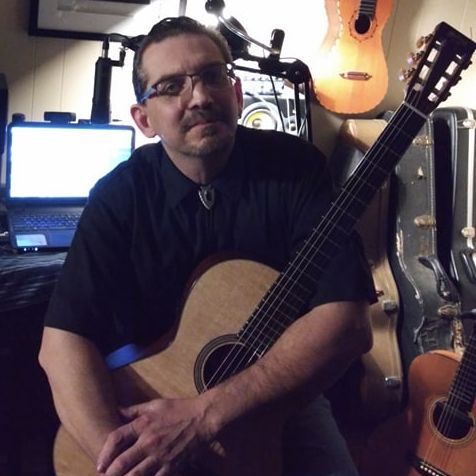 Tom Keller
After 40 years of feeding his thirst for playing the guitar, Tom Keller continues his quest for multi-genre technical and inspirational challenges, and putting the power of music in the hands of youth.
Born in 1973 in Greenwich NY, Tom's musical interests began to bloom at an early age. National Public Radio ever present throughout his house, his parents were from almost opposite ends of the cultural spectrum (his father Harold from Brooklyn NY and mother June from Ozark, AR). An eclectic mixture of family friends  also fueled his upbringing and inspiration.
At the age of 6, his friend introduced him to a guitar that had been shoved in a closet. Heavy doses of the Beatles, Bob Dylan, Rolling Stones and a wide spectrum of classical music fed his ears around the clock. He began formal guitar study at the age of 9, and by the end of the 1980s he was gigging professionally before graduating high school, nominated "Outstanding Senior Musician" of 1991. He went on to immerse himself in the NYC music scene and receive his BFA in Music from Purchase College, SUNY.
Tom has worn many hats as a performer, arranger, recording artist and technician, and his handiwork has frequently taken him across the US. The broad nature of his work has ranged from recording and performing modern classical works, to sessions as a jazz-rock player, to singer-songwriter coffee house shows. Locally, he has also illustrated his talents as Stage Manager for Second Wind Productions/Music Haven Concert Series in Schenectady NY, and Music Director of the Greenwich Youth Center in Greenwich NY.
Located in the hamlet of South Argyle, Tom operates Keller Guitar Studio from home. He teaches privately, performs basic repairs, and is always taking on various recording and performing projects. He is a member of NCMA award-winning country gospel group Bridge Street Revival, and was a 2019 nominee for NCMA Songwriter of the Year.